A member of the pharmaceuticals industry, Technoflex is an innovative company and European leader the design and production of flexible bags and medical devices.
We develop partnerships with our clients in which Technoflex plays a role of upstream involvement in order to offer innovative, turnkey and easy-to-use solutions. Our Research and Development Department and our cutting-edge technology enable us to design the future generations of flexible bags and their corresponding connectors with an ever-increasing foresight of technical, normative and environmental developments.
We never forget that the end user of our products is a patient. This is why, for more than 40 years, Technoflex has remained committed at every stage of the product design and manufacturing processes to guaranteeing the safety of the patient and the medical professionals who use our products.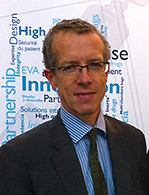 Olivier Chesnoy
Technoflex CEO