Biocell®, high-performance EVA bags for the biotech industry
Millions of patients around the world are treated with blood products every year for immune system disorders, chronic infections, and coagulation disorders. Because these blood products are subject to the same quality, safety, and efficacy requirements as any other treatment, Technoflex developed Biocell®, a high-performance EVA bag.
The integrity of a bag is primordial from when the product is being manufactured right through to its end use in the patient. A bag can contain soiled or even contaminated product, it can leak, it can contain phthalates, or it can be made from a material that causes unwanted chemical reactions in the contents of the bag. The risks posed by non-compliant bags to the patient are numerous. The choice of material in the design of a bag is therefore as essential as the quality of the bag's manufacture.
EvaFlex® high-performance film
With these needs in mind, Technoflex launched the Biocell® range in 2016. These bags are made with the EvaFlex® film and designed in strict accordance with American and European pharmacopeia standards.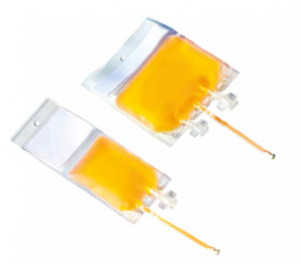 As these Biocell® bags are made from EVA (ethylene vinyl acetate) and free from DEHP, they remain highly flexible even at temperatures below 0 °C and can be sterilized by radiation. Additionally, some bags in the range possess a barrier property for better storage of products that are sensitive to oxygen and carbon dioxide. With its unique appearance and physical properties, the EVA film also blocks ultraviolet rays, prolonging the shelf life of the solution in the bag.
For better patient compatibility, Technoflex also developed a high-frequency welded twist-off EvaFlex® port, thereby eliminating adhesive interfaces between the film, tube, and port.
An AQL that reflects a meticulous manufacturing process
Not only must a bag be made from the right material, but it must also be manufactured to the same high standards. That is why the Biocell® bags are manufactured in ISO 7-compliant controlled environments by specially trained personnel.
In addition to these manufacturing processes, a strict quality control protocol is followed that includes particle counting, microscopic assessment, and individual bag pressure testing for certain product ranges.
We have a strategy for testing materials for cross-contamination from their arrival at the factory through to the manufacture of the bags, enabling our Biocell® bags to achieve an acceptable quality level of 0.65 per batch tested. In the flexible bag market, few can claim to be manufacturing products of that kind of quality. As a result, since its launch the Biocell® range has met with continuing success among major stakeholders in the medical biotechnology industry.
With Biocell®, Technoflex has cemented its position as an independent leader in flexible bags and a trusted partner for biotechnology stakeholders.