Healthcare's latest helpers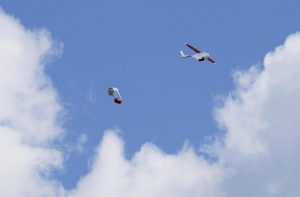 Rural or mountainous regions, non-existent or impractical roads: supplying medical equipment and medicines to the most remote regions is a problem which affects many countries. Almost 750 million patients throughout the world have limited access to healthcare infrastructures. Drones, which have been used for several years in the military context and more recently in e-commerce, offer a solution. When applied to the healthcare sector, they have proved their effectiveness in delivering medicines and medical equipment. 
In 2016, Rwanda opened its first drone base on the outskirts of the capital Kigali. At speeds of up to 70 km/hr, drones make 150 deliveries of blood bags daily to rural clinics. The positive results of this operation led to the creation of a second base which was due to come into operation during 2017, thus providing coverage for the entire territory of Rwanda. In the same year, the transportation of hearts by drones was trialled in India. This avoids journeys which would be greatly slowed down by traffic jams in large cities or by impractical country roads. For patients awaiting a transplant, every minute is precious. The success of a transplant largely depends on the quality of the graft, and therefore on the speed of the transportation of the organ after removal. Reducing delivery time for the most fragile organs is the challenge being met by India.
The latest to launch such a project is Tanzania. With fewer than one doctor per 1,000 people and only 5,640 medical centres for a population of 56 million people, access to health care is not easy. In order to remedy this, the country is preparing to launch the largest medicine distribution network via drones. From 2018, no fewer than 120 drones will carry out up to 2,000 deliveries of vaccines, medicines and blood transfusion equipment per day. The first of the four distribution centres will be based in the capital Dodoma. Each centre will be equipped with 30 drones which will carry out deliveries within a 100-mile radius.
Although the advantages of drones have already been proved, there are still significant obstacles to be overcome in Europe. Amongst these are the regulations which govern air traffic. These are very strict and require the allocation of air lanes, authorizations and special training. Safety is also a central concern. The risks of crashing (overhead electric cables, mechanical failure, etc.) are very real, and drones are at the moment regularly refused permission to overfly urban conurbations. However, the European Parliament should soon be standardizing legislation on their use.
Sylvie Ponlot