All change in the connectors department!
The regulations governing the activities of the pharmaceutical industry are constantly changing and are ever more rigorous, as anticipated by Technoflex. Over the last ten years, the company has made many investments which allow it to offer new-generation connectors adapted to the requirements of pharma companies.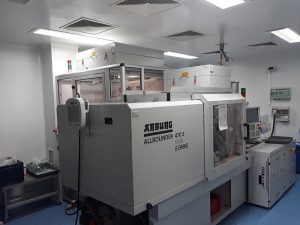 The connectors department is a hive of activity, operating 24/7 with machines which are only shut down once a year for maintenance operations. It is composed of two distinct zones, injection and assembly. The first project stream involved the plastic injection division with the installation of new injection molding machines. Six of these are entirely electric and perfectly suited to use in clean rooms. They handle high-speed operation with ease, while improving the work environment for our teams by reducing noise levels. Another area of improvement, incorporating technological innovation at the center of our quality approach: conformity checks, checks of appearance or counting and sorting, the automatic vision feature detects potential defects in the assembled products. Installed on the assembly machines, the inspection camera scrutinizes the twist-off, injection site and other components. It performs faster and more reliably in repetitive tasks, freeing staff from tedious manual inspections.

A new zone commissioned!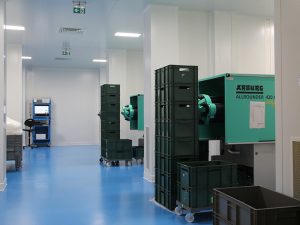 After several months of work, the plastic injection zone clean rooms extension has just been commissioned. Adding a surface area of one hundred and seventy square meters, it now brings the total surface area devoted to the production and assembly of connectors to more than 1,600 m2. This new Controlled Atmosphere Area (CAA) recently welcomed four new hydraulic injection molding machines weighing between 80 and 150 tons. The greater the volume to be injected, and the larger the mold cavity, the higher the clamping force required. It determines the tonnage of the molding machine. These investments now allow the production of more complex connectors, that are still as innovative.
This new high-tech, diversified equipment ensures production at industrial speeds meeting the demands of our customers, whether these are pharmaceutical or biotechnological. And further equipment items are planned!
Sylvie Ponlot