A fitness center for high-tech equipment

In order to meet the exacting standards of the pharmaceutical industry, Technoflex is equipped with a fleet of high-tech machines which require regular maintenance. To find out more, we spoke to Cédric Vassal and Thierry Crabos, two experts from Technoflex's maintenance workshop.
Sylvie Ponlot: Cédric and Thierry, with all the repairs and maintenance required by our machinery, you must be pretty busy?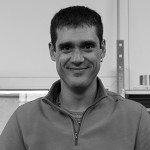 Cédric Vassal: Yes, I do handle quite a broad variety of tasks. That means everything from identifying and preparing the right tools to conducting repairs on the production machines: the outfeed lines for IV bags, the tube fillers and the expanding mandrels which hold the reels of the printing film in place on the production lines.
All of these machines are dismantled and brought into the workshop, where we repair them. I also keep an eye on the filtration of the water in the autoclave, and look for ways to improve the work stations: that means simplifying tasks such as steering the autoclave trolleys, or moving the inspection tables for cleaning.
Thierry Crabos: My work is more focused on the plastic injection moulding side of things. I perform preventive maintenance on the machines. Maintenance work on the injection presses (emptying and changing the hydraulic pipes etc.) takes place during the annual shut-down period. We also handle the assembly and disassembly of the moulds every time we switch between production series. We sometimes see burn marks appearing on the PVC components when the material spends too long in the injection port. When that happens we have to take the machine apart and clean it thoroughly. I also do repairs on some of the supporting equipment such as the conveyor belts, the grinders and the mould cooling system.
SP: How do you deal with the risk of contamination when you are called in to deal with a problem in the production facilities?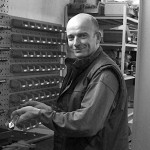 TC: We take every possible precaution to minimise the risk of contamination. When we're called in to work in a controlled environment, we don't bring in any tools from outside. We have a full sets of tools within the controlled zone, which are systematically cleaned after each use. Every time we change production series, we clean the moulds before installing them on the presses. They enter and leave the production zone via a special air lock which serves as a transition between the clean room and the outside world. As for the units in continuous production, we schedule maintenance breaks at regular intervals in order to clean the moulds.
SP: Does your technical expertise mean that you're sometimes called upon for tasks other than maintenance?
CV: Yes, sometimes different departments within Technoflex call us in on account of our mechanical know-how. We develop prototypes for the industrial department and the quality control department. That usually means systems designed to test bags and their connectors.