Technoflex in Brazil
August 2011 – Transamerica Expo Centrer, Sao Paulo, Brazil.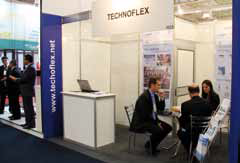 Confirming its international strategy, Technoflex participated in the CPHI ICSE show – which welcomes 4000 attendees from the Pharmaceutical Industry, – the most important South-American forum, making it possible to develop partnerships and access a fast-expanding pharmaceutical market. A first-rate opportunity to be known and recognized!