From apprentice to apprenticeship supervisor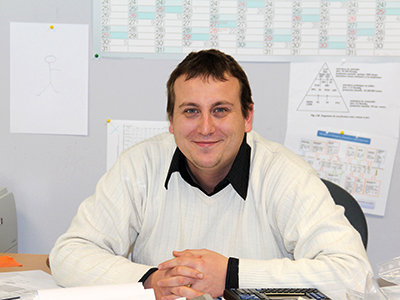 After my apprenticeship training at Technoflex I had the opportunity to continue my career as a development engineer at the Bioluz Laboratories (subsidiary of the Technoflex Group). I have now reintegrated Technoflex and, in turn, I have been asked to become tutor for an apprentice. My experience will help me to pass on a great deal of knowledge and practical advice.
Here, apprentices are almost immediately confronted with real problems. They have to learn to develop responsibility for their work, because they intervene on sensitive projects or sometimes on crucial points.
During the first year they must learn how our R&D department operates and acquire the basic techniques essential for understanding our profession. It is a year full of discoveries which must not be neglected in order to become independent as quickly as possible. The essential point in their training is, during the second or third year, to be able to entrust them with a project which will allow them to validate their diploma and gain a better understanding of their future job.
In my opinion, the apprenticeship supervisor's role is not to be overprotective of students, but to set gradual objectives, adapted to their pace of learning, so that they can reach the required level and be fully efficient at the end of their training. It is a fulfilling experience both for the student and for the apprenticeship supervisor.